---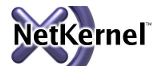 NetKernel News Volume 5 Issue 16
December 22nd 2014
No updates this time.
Stocking Filler: Powerful $35 NetKernel Server
Early last week, HardKernel announced the Odroid-C1, a thirty-five dollar Raspberry-Pi-style full-Linux mini-computer with an impressive specification...
Amlogic ARM® Cortex®-A5(ARMv7) 1.5Ghz quad core CPUs
Mali™-450 MP2 GPU (OpenGL ES 2.0/1.1 enabled for Linux and Android)
1Gbyte DDR3 SDRAM
Gigabit Ethernet
40pin GPIOs
eMMC4.5 HS200 Flash Storage slot / UHS-1 SDR50 MicroSD Card slot
USB 2.0 Host x 4, USB OTG x 1,
Infrared(IR) Receiver
Ubuntu 14.04 or Android KitKat
We've had our eye on the progress of small footprint linux-capable devices for a while, so we didn't waste any time submitting an order to get a few of these shipped over.
We thought they'd take a while to come since the announcement didn't mention a shipping date, but as an early Christmas present they turned up on Friday!
Ten minutes from out of the box and we had the NKPerf10 benchmark...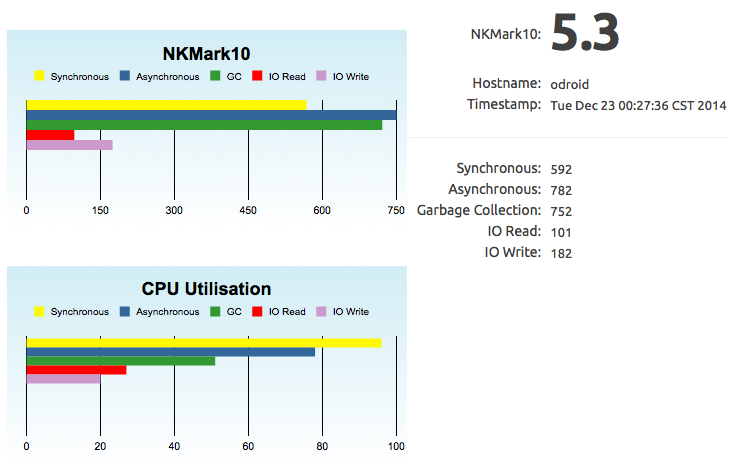 That's hugely better than Raspberry-Pi (which is just too underpowered to run Java). In fact, when we first produced NKMark, my laptop of the time had a score of 3.2. So this little device is a serious and fully NK-ready platform.
We've installed various applications and demos and can attest that its real-world performance feels just like a regular server. If its not too late, then get a letter off to Santa...
Note: Out of the box we got an NKMark of 3.2, however with a little tuning of the JVM we were able to get it up to 5.3. Here are the jvmsettings.cnf we used...
-server -XX:+AggressiveOpts -XX:+UseBiasedLocking -Xmx196m -Xms196m -Dfile.encoding=UTF-8

If the impending prospect of spending time with the relatives becomes too much, here are a few non-seasonal ROC videos for an escape. I've threatened my kids that if they don't behave then Christmas will be cancelled and this is all they'll be allowed to watch. The movies may also prove to be useful in a surgical counter-strike against North Korea for "The Interview" and, even worse, its blatant misuse of the NK acronym.
First up is a video by Tony showing the scaling potential of NKP.
Second is a video walking through the distributed 3-Party notary demo which I discussed earlier in the year. With a little imagination it should be clear that all of the scaling properties shown in part one above, are applicable to this second part too...
Finally a tantalising glimpse of the NetKernel-powered Comb9 platform...
Now here's the thing. These three videos show a set of capabilities that can be readily composed (its ROC after all). In the New Year we'll be releasing a brand new Measurement, Monitor and Control (MMC) tool which completes this comprehensive set of end-to-end "ROC-Fabric" for scalable, evolvable IoT and microservice architectures...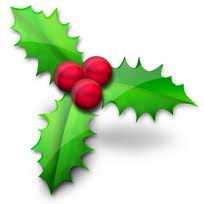 We'll be keeping an eye on things over the holiday but will be operating a limited support service - we'll prioritise emergency responses and offer best efforts on regular matters.
Hope you also get chance to relax and enjoy the season. See you in the New Year...
---
Have a great holiday!
NetKernel, ROC, Resource Oriented Computing are registered trademarks of
1060 Research